Cate Khan Speaks at The Information's Creator Economy Summit
"Consumers are changing the way they want to interact with merchandise. They care more about the stories that merchants are telling."
June 25, 2022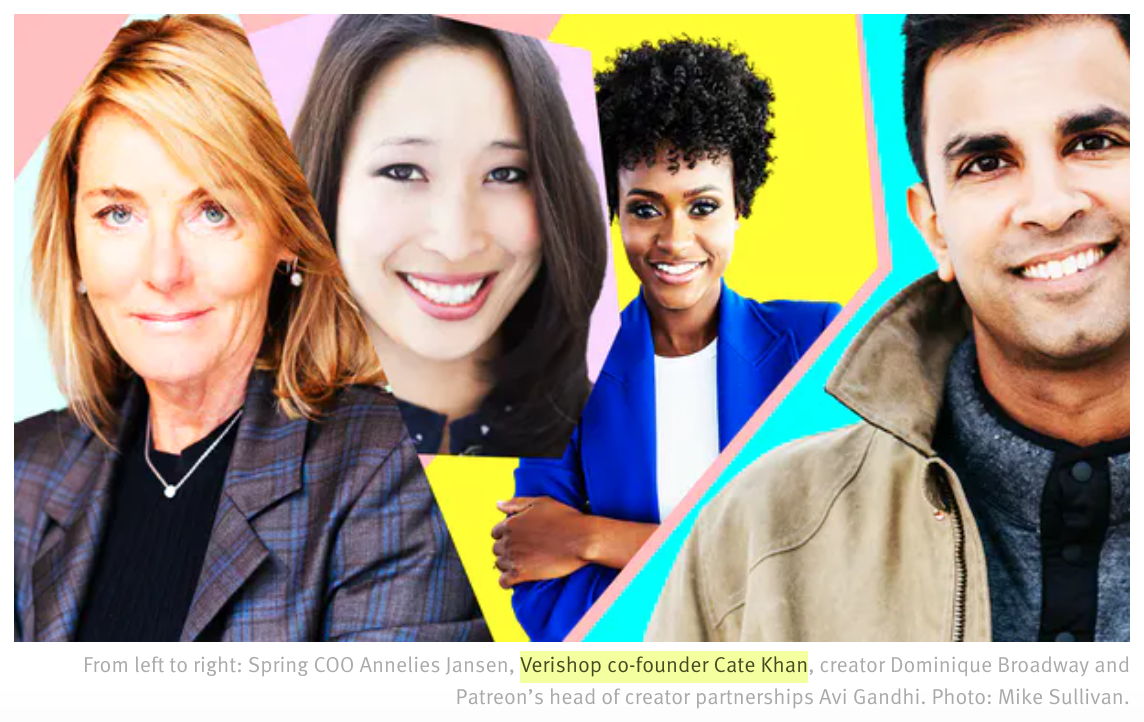 Creator Economy Winter, TikTok's Rivals + NFTs: Highlights From the Creator Economy Summit
May 26, 2022
How Instagram and Pinterest view blockchain technologies. Whether the creator economy is overfunded. Strategies for creators to buck an economic downturn. These were among the topics of discussion at The Information's Creator Economy Summit Wednesday.
Participants included Ashley Yuki, Instagram's vice president of product; Malik Ducard, Pinterest's chief content officer; Danielle Tiedt, YouTube's chief marketing officer; and venture capitalists such as Softbank Vision Fund's Kristin Bannon and Animal Capital's Marshall Sandman.
Looming over the summit was a potential recession that could dampen the growth of creators' earnings and the startups that serve them. Annelies Jansen, president and chief operating officer at e-commerce software provider Spring, said creators are primed to weather a downturn because they play a role in informing shoppers how to make purchases. Startup founders, many of whom have never experienced a recession, are now learning to cut costs, according to Sandman.
"That really nice exposed-brick Dumbo [Brooklyn] office? You don't really need it," he said.
We also heard from creators including TikTok star Josh Richards, who predicts that social media companies like Instagram, YouTube and TikTok will put a focus on livestreaming. "I see Twitch absolutely dominating," he said in an interview with The Information. (Read more on his interview here).
And several speakers shared their thoughts on the Texas and Buffalo shootings. "I truly hope and pray that this is a turning point," Pinterest's Ducard said.
Below we give our summaries on the speakers and master classes at the summit, including panels on Web3, the metaverse and how creators are launching their own brands.
The Future of Meta's $1 Billion Creator Investment
Meta Platforms' $1 billion creator fund is one of the largest financial commitments a social media company has made directly to creators. Ashley Yuki, co-head of product at Instagram, said "it's a little early to say" what will happen when the investment runs out next year. She said the app is focused on developing "the best suite of tools to make sure we're that platform of choice."
It's also focused on promoting its TikTok rival, Reels. Instagram users now spend about 20% of their time on Reels. Yuki said the video feature is on the right trajectory but still has a "long way to go."
"We feel very invested and focused on continuing to evolve it and continuing to evolve Instagram more broadly to be more video first, to embrace Reels as a format even more than we have historically," Yuki said.
Despite more platforms launching social audio platforms, like Twitter's Spaces feature and Facebook's Live Audio Rooms, Yuki said audio-only features aren't the right fit for the photo-centric Instagram. "We're really focused on what our strengths are," she said.
The app, meanwhile, launched a test earlier this month to allow creators to post non-fungible tokens they have made or bought in their Instagram Feed and Stories or in messages. Yuki described a vision in which creators can sell subscriptions to their fans directly through the blockchain-based digital collectibles.
The idea is that creators and their audiences should be able to form communities that aren't tied to a single platform. "We shouldn't necessarily need to own their relationships with their super fans," said Yuki.
Creators Can Survive Downturn by Advising Shoppers
Social media stars who are looking to build online consumer brands face challenges as inflation dampens consumer demand. Spring's Annalies Jansen and other business leaders who work with influencers say creators can survive a downturn by leaning on what they do best: talking to fans.
"Creators have a lot of power and spend a lot of time doing research for consumers," said Reesa Lake, head of creator expansion and agency partnerships at LTK. The social shopping company gives creators that post on its app a commission when their followers buy items that are tagged in those posts. "Creators will still be just as important in terms of guiding people's decisions," Lake said.
That power to guide decision making can give creators an advantage over traditional merchants. "Consumers are changing the way they want to interact with merchandise. They care more about the stories [that merchants are] telling," said Cate Khan, co-founder and chief strategy officer of social shopping marketplace Verishop, which enables users to follow influencers and buy goods directly from brands these creators feature in their posts. "Only creators can do that [storytelling]," Khan said.
Pinterest Skirts Crypto, Focuses on the 'Real World'
Creators on Pinterest will have to wait some time to display or earn money through NFTs on the digital scrapbooking site. Ducard, Pinterest's chief content officer, said NFT owners already share images of their digital collectibles on the platform, but the company is more focused on the "real world."
"We know there's an opportunity [in the real world], especially coming out of two years of so many of us being inside and virtual," he said.
That approach differs from those of rival social media sites Instagram as well as YouTube, which has hinted at its own NFT plans.
Ducard also said Pinterest will expand the $20 million investment it made last year to pay out creators. "We're doing a lot of really aggressive expansion of this and we're looking forward to continuing to build out that strategy," he said. The company will also continue investing in its creator fund focusing on underrepresented communities.
YouTube's Investments in Its TikTok-Competitor
YouTube, which faces stiff competition from TikTok and Meta on short-form content, touted its ability to offer creators a variety of content formats including Shorts and long-form video and audio.
CMO Danielle Tiedt said executives continue to discuss what model they will select for paying creators who are making shorter content in the future. For now, YouTube has made payments of varying sizes from its $100 million YouTube Shorts Fund. In April it said more creators who hadn't previously received payments would start earning bonuses for the first time, of under $100, while other creators may see an increase in their payments above what had typically been a $10,000 maximum.
"There's a whole new monetization model here for us and we're working really hard to make sure our creators benefit from the long-term success," she said of Shorts.
She declined to say whether YouTube would extend the term of the YouTube Shorts Fund beyond the end of the year, when it is currently slated to end.
Shorts-video viewership skews more heavily toward people 35 and under, she said, and the company holds weekly panels to solicit feedback from Gen Z users around the world, something it hadn't done with prior generations. That generation has been a major driver of the shift toward scrolling through shorter videos.
"It's fun because they are engaged and they are in here with us and they are not afraid to tell us what they think," she said of Gen Z users.
Why Creators Are Skeptical About the Met-averse
Creators are dabbling in the metaverse as the concept evolves, but there's still hesitancy to completely dive in, according to James Myrick, who works with creators as a general manager of growth marketing at BEN Group, an influencer marketing company.
Myrick said people aren't clear yet about how the metaverse will connect people.
"I think that everybody's looking at that opportunity," he said.
Accenture's managing director of software and platforms, Kevin Collins, has also seen hesitance. "I think for a lot of people that we've talked to, they just haven't seen the killer app yet," he said. "There's no Google search or mapping or texting equivalent yet for [the] metaverse."
Roblox's vice president of product, economy and ecosystems, Enrico D'Angelo, a self-described "metaverse optimist," said he sees the metaverse as removing a lot of the limitations that other forms of media, including social platforms and streaming services, present.
"It allows connection with millions of users at the same time," he said. "Social interactions, real interactivity."
Overfunding in the Creator Economy
The upcoming economic downturn will teach founders to rely less on outside funding, said venture capitalists on our panel. That's a change from last year, when so much money was chasing new investments that some suggested the sector had been overfunded.
"How many different creator monetization tools can there be? How many different creator credit cards can there be?" Animal Capital's Marshall Sandman said of the proliferation of new, similar startups.
Investors say they've been teaching founders of their portfolio companies the basics of how to survive a recession—preserve cash, lean on existing relationships for financing and be willing to cut expenses that once seemed essential.
And as the pace of investments has slowed down, investors also have more time to do diligence on companies and work directly with founders.
"It's quite refreshing to be able to spend so much time on your portfolio and work with your founders in a collaborative way," said Kristin Bannon, investment director at SoftBank Vision Fund. "We're in new territory right now. There's very few, if any, investors or founders that have been around in both a market downturn as well as a high inflationary environment."
This pace has also made room for investors to vet the introduction of newer technologies, like Web3, which many founders are feeling pressured to include in their products or business plans.
"A lot of people are rebuffing and reshaping their business as a Web3 business," said Sam Wick, head of UTA Ventures. "That's when you really want to have time to do some diligence and really make sure the people who are entering the space really understand the space."
NFTs Remain Best Way for Creators to Make Money With Web3
Creators are seeking more ways to generate revenue, and chief among their considerations is Web3 initiatives, according to panelists to discuss blockchain technology.
Take musicians. Sally Shin, chief strategy officer at music distribution company UnitedMasters, said most artists need additional income outside what streaming platforms offer them. Merchandise is one way they've monetized their brand. But selling NFTs has become another lucrative opportunity.
What does that look like? Artists can sell NFTs granting exclusive access to Discord channels where fans access samples of new tracks. Alternatively, musicians can work with startups like Royal to sell a portion of their royalties to fans using digital assets, and fans in exchange receive ongoing streaming royalties. The key here is that people can sell these NFTs—and the special access that comes with them—on an open market.
"If you're an emerging artist and you have a small cohort of fans, and you hold this lifetime backstage [pass]…and that artist gets more famous…that value of that NFT goes up," said Shin.
Outside NFTs, ease of payments is one benefit of cryptocurrencies that can help creators, said Sean Kim, president and chief product officer of Kajabi, a platform for technical creators like authors, chefs and trainers. "Being able to accept payments from fans around the world is arguably easier if you were to just accept crypto which then can be transferred into fiat [traditional currencies]," he said.
Still, crypto has to find easier ways to interface with customers. "It's hard to imagine that everybody's gonna drop Web 2.0 and transition over [to Web3]" because of how complicated some of the user experiences are right now, said Hussein Ahmed, founder and CEO of creator financial services platform Oxygen. "Many users to this point now can't wrap their head around like, 'What do you mean, private key?' Or like, 'What is [a] metamask?'"
Kim echoed that point. "The creator fan…shouldn't really be able to tell the difference between Web 2.0 and Web3," he said.