Forbes: Verishop Wants To Be The Go-To For Independent And Emerging Brands
Verishop is leaning into smaller brands that may have a hard time getting distribution otherwise
June 23, 2022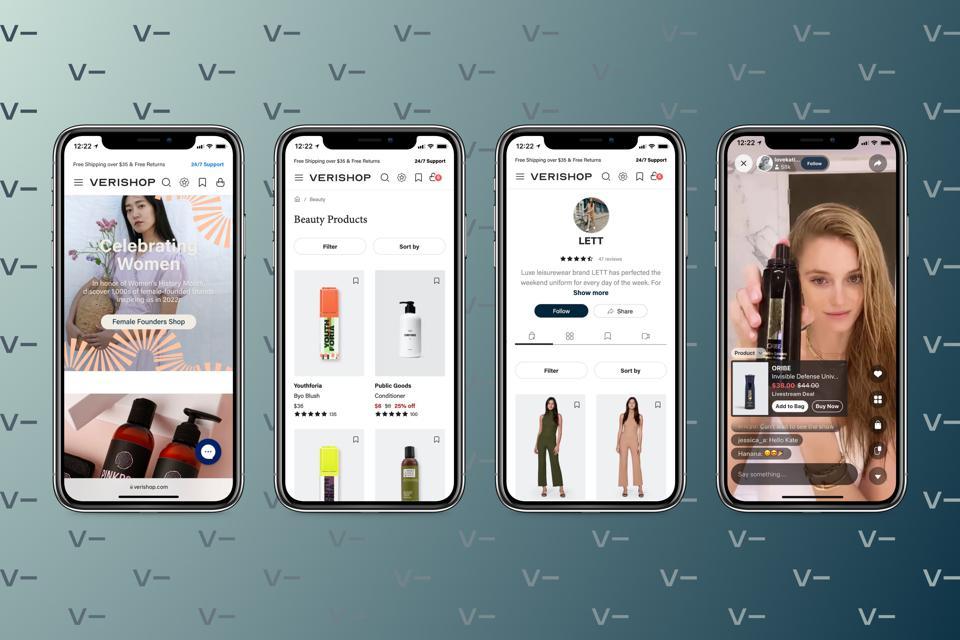 By Sharon Edelson
March 24, 2022
Independent and emerging brands, Verishop wants you.
The platform, which boasts 1 million shoppers per month, was designed for small brands with five to 10 employees, that find it difficult get distribution and build scale. Verishop is a platform that offers all the operational support that's necessary to create a viable business.
Imran Khan, Verishop's CEO and a veteran of SnapChat, said, "What we wanted to do is build a platform of those independent brands and creators. If you think about it, at the end of the day, a brand is a promise, so these guys need to tell their story. We've created a lot of tools like live shopping, content feed and better recommendation engines for independent and emerging brands to tell their stories and for consumers to discover those brands."
A lot of consumers are looking for unique brands; Khan said that according to Nielsen, 91% of U.S. consumers are hoping to discover smaller, creative labels built by entrepreneurs. Verishop assists them with everything from lending and shipping to finding the right manufacturer.
"Verishop is a platform that connects those independent and emerging brands to their fans, but also what we're doing is, we're building a lot of software and solutions so these brands can build product more efficiently and can be more efficient in terms of their financing and operational costs," Khan said.
Creative software solutions will lead to bigger baskets from customers, Khan said. For example, Verishop can offer more effective pricing and is launching software called ReKeepIt, which asks consumers to agree not to return the products they've purchased, in exchange for lower pricing.
"We're building all the software and we're giving loans to small businesses because they can't get loans from the banks. So the whole thing is supporting small businesses so they can be successful," Khan said, adding, "Our business is different than, say, a lot of Shopify apps, which are what I call a tax model. You have to pay them upfront and build out all these things. Our model is an incentive-based model."
When a sale is facilitated through Verishop, the platform takes an undisclosed cut and transaction fee. The platform boasts more than 2,000 merchants, most of whom are doing $10 million to $20 million in annual revenue, Khan said. That dovetails nicely with Verishop's customer base, which is primarily female, and between 25 and 45 years of age.
Not surprisingly, fashion, home and beauty were the first three categories to launch because there's a lot of independent creators working in those areas. Ath-leisure is particularly fertile ground, Khan said. Unlike Amazon, Verishop doesn't do private label or aspire to launch home-grown brands. "Our goal is to help the little guys," Khan added. "We're not a retailer, we're a platform to connect brands and their fans."
The two- and a half-year-old Verishop did $50 million in gross merchandise value or GMV last year. Khan claimed that Verishop is one of the fastest-growing multi-brand platforms with a monthly merchant retention rate of 99.7% and net promoter score of 70%.
"We don't ask for exclusivity and don't force brands to sell only on our platform," Khan said. "We want brands with a strong promise and brands to stand by our consumer promise. Shoppers want the lowest price possible. Brands shouldn't overcharge on our site, they should charge the same for like products on their sites. We also stand by our delivery promise. If you tell them you'll deliver in two days, you have to deliver in two days. If you don't, we offer a free return, and brands have to accept the free return. These are the practices we want to have, and if you can't do it, we're here to help you."
Khan is not averse to having some big brands on Verishop, saying that the larger names on the site are actually helpful for independent and emerging labels, because they validate the little guys. "One of the things we did early on, is we wanted to create a digital mall for independent and emerging brands. By having a mix of brands, including a number of bigger brands, you actually increase the value of the small brands."
For example, larger, more established brands that lend credibility to their smaller brethren include Madewell, Ganni, Aesop and Vince. They're sold alongside less common, but rising names such as Favorite Daughter, Saie, Indie Lee, Dress the Population and Alohas. Many brands are designated as "coming soon," including one that needs no introduction, Kim Kardashian and her Skims.
Khan got the idea for Verishop at his previous job at SnapChat, where he was overseeing the ad business as chief strategy officer. "One of the growing categories was e-commerce," said Khan, who founded the company with his wife, Cate, who is chief strategy officer of Verishop, and a former senior vice president at Amazon. "In talking to those customers, I realized that they were the creators and they wanted to be in this business because they passionately believed in something."
Take Violets are Blue, a skin care range of organic and sustainably sourced products, launched by a maker who had a breast cancer diagnosis. "She put a lot of love and a lot of passion into building this brand, but she's not the greatest marketer in the world," Khan said. "She doesn't have the bank relationships to get loans. She doesn't have a relationship with FedEx to get a 40% to 50% lower rate on shipping, she doesn't have a way to reach consumers, and for her to get on Google or Facebook is [futile,] because there's nobody searching for her."
The biggest difference between Etsy and Verishop is that Etsy is more about individual sellers who are building handicraft products, among other things, Khan said, adding that his ambition is to take small businesses to the next level and build the future Allbirds and the next Warby Parker.
"By principle you're going to get more market share and our mission is to help independent brands thrive," Khan said. "If you're looking for something utility-driven and know exactly what you want, there are ways to buy it. If you're looking for something conscious, you want to be inspired. That's our platform."
https://www.forbes.com/sites/sharonedelson/2022/03/24/verishop-wants-to-be-the-go-to-for-independent-and-emerging-brands/?sh=761a3d22527c