The Information catches up with Verishop co-founder & CSO Cate Khan at Shoptalk
June 23, 2022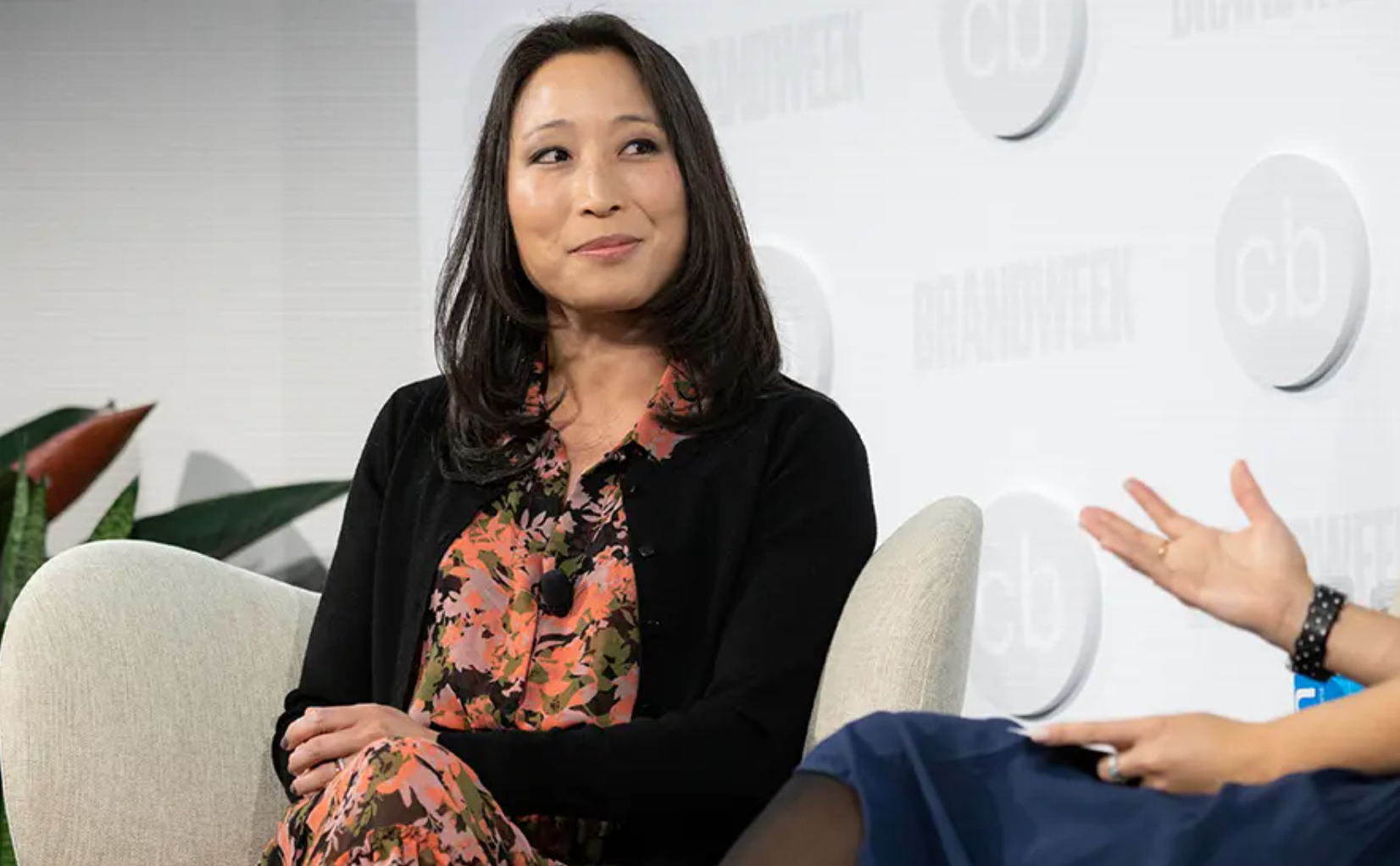 by Malique Morris
April 1, 2022
"The metaverse is a big fat distraction," declared Julie Bornstein, CEO of mobile-first fashion marketplace The Yes.
Sitting in a stuffy conference room at the Mandalay Bay Resort and Casino's convention center in Las Vegas, Bornstein is on the frontlines of how shoppers, especially younger ones, are buying goods online. And right now, she said with a pointed shrug of her shoulders, "our customer doesn't care" about meta anything.
Bornstein's shopping app and site, which she co-founded with former Google engineer Amit Aggarwal in 2018 and launched in 2020, shows its users products that they are most likely to buy based on previous product recommendations that they've said no or yes to. The algorithm she and her team have developed can identify 500 or more characteristics of a single garment, from its shape to which influential person has been photographed wearing it, and match the right item with the right buyer. But none of it has anything to do with virtual reality or other aspects of the metaverse.
Nevermind the metaverse hype that overtook last month's South by Southwest conference. About 1200 miles west, at the annual Shoptalk conference in Las Vegas, e-commerce executives were having none of it. Bornstein was hardly the only CEO who brushed off the term "metaverse," which has become shorthand for describing the immersive internet of the future. For proponents of the technology, including Meta Platforms, which had a small presence at the conference, this was not an auspicious sign.
Cate Khan, co-founder of social commerce startup Verishop, which lets users buy directly from a creator's posts, echoed Bornstein's take. "Metaverse is not in our vocabulary right now," said Khan, a former retail exec at Amazon, while sitting in another sterile conference room in the Mandalay Bay. She and her team are instead focusing on advancements in their current selling features, such as allowing customers to buy goods during a livestreamed video.
Bornstein and Khan were among the thousands of retail professionals who descended on Las Vegas to trade industry tips and predict future consumer behavior at Shoptalk. But at "retail's big reunion," as the conference's marketing material put it, the internet of the future was just a footnote. Instead, the e-commerce leaders were far more fixated on the big issues of the moment: the ongoing supply chain mess, still riddled with shortages of labor and raw materials; skyrocketing inflation that is raising the costs of making, selling and delivering goods; and hiccups in the digital ads market, with advertising on social media becoming less effective amid an onslaught of new consumer data privacy policies. Plus, the pandemic bump to online shopping has come down to earth as more people log off their devices and go back into the real world. E-commerce sales growth is expected to increase only 12% this year, down from a 16% increase in 2021, according to data firm eMarketer.
Of course, this being 2022, there were still awkward attempts to make the metaverse a thing at the show. At the entrance adjacent to the Mandalay Bay lobby, where attendees went to receive their badges, an empty glass display projected a moving image of animated figures while a disembodied voice barked, "What's the metaverse?" But, inside the convention center itself, filled with hundreds of booths sponsored by early-stage startups and tech giants like Amazon, the power players of the $870 billion U.S. e-commerce sector didn't seem too concerned with making whatever the metaverse is into a shopping destination.
The lack of urgency about bringing shopping to the next version of the web was not much of a surprise to some industry watchers. Retailers are trained to think in the near term, said one industry veteran as we stood in a Starbucks line that stretched to the adjacent casino. They've always had an aversion to thinking too far ahead. This person said that at a former employer—a large electronics seller—thinking even five years ahead was a stretch.
However, not everyone was as skeptical about the metaverse's long-term promise. Neha Singh, co-founder and CEO of Obsess, a software company that creates virtual stores for big-name brands like Ralph Lauren and Fendi, said the metaverse and Web3 is a chance for merchants to make e-commerce more than just scrolling on a gridlike webpage. "Brands will go from selling products to creating experiences where customers can connect with each other," Singh said during a panel discussion about online shopping software. She pointed out that this can be done without customers having to wear clunky headsets or unattractive glasses. The virtual stores created by Obsess, which has raised $13.4 million to date, are desktop and mobile friendly, she said to a packed room of industry peers.
Some big-name merchants are hopping on the Web3 bandwagon. Back in December, Nike acquired RTKFT, which creates, sells and stores virtual goods, for an undisclosed sum. In the same month, Adidas released an NFT collection in collaboration with popular crypto names like Bored Ape Yacht Club. To be sure, the brands and retailers at Shoptalk were not dismissive of the idea of digital commerce in the internet of the future. It's just that today's shoppers have shown very little inclination for this reality yet.
Faisal Masud, CEO of e-commerce software provider Fabric, said metaverse commerce may do well once a new generation of shoppers, those 25 and younger, grows up and sees their discretionary income increase. But by then, he said, "I'll be long gone." Masud, who is in his late 40s, was being facetious, but the point remains: The likeliest early adopters of virtual reality—teenagers—are not the people with the greatest financial resources. "That's not where the transaction power is," he said.
ThredUp CEO James Reinhart said he had given some initial thought to how his secondhand goods marketplace could fit into the metaverse. Sitting in yet another conference room, Reinhart said he had weighed those possibilities with his team before. "Should we start thinking about vintage minted NFTs?" he asked, bouncing some ideas off me. He even said he had considered creating a special cryptocurrency, ThriftCoin, that could only be used to buy secondhand goods.
But Reinhart's brainstorming has only ever happened after a few beers with his team, he said. These aren't boardroom-ready discussions yet. "We're not using company resources to develop a point of view," he said. "I don't feel compelled to rush into this."
Even the software companies that power critical online shopping features, such as checkout, are not racing to offer Web3-friendly selling capabilities. Jay Myers, cofounder of Bold Commerce, which creates software that can help merchants offer one-click checkout and subscription payments, said offering cryptocurrency is not at the top of his list. "Customers view crypto as an asset and not a currency," he said while sitting at his company's booth. Myers pointed to the erratic value of cryptocurrencies as the main culprit for both customers' and merchants' dark views on its potential. The price of Bitcoin, which reached a high of $65,000 in November, has come down about 30% and currently sits at around $46,000. If given the choice, "will customers even choose crypto over a credit card?" he asked.
Over and over, execs at Shoptalk came back to that same point: Without mass consumer demand, merchants don't see obvious growth opportunities that would justify investing in the labor and engineering required to build and integrate Web3 shopping features into their core selling capabilities. "Right now, what [revenue] are we taking away?" Khan of Verishop asked.
A recent study conducted by e-commerce marketing software firm Klaviyo validated merchants' suspicions about consumer indifference to the metaverse. Of the 1,000 U.S. shoppers ages 18 to 24 who participated in the study, 65% expressed little desire to shop in the metaverse; 49% of these consumers were unaware of what the metaverse was and 17% thought it was just Facebook, which changed its name to Meta Platforms last October.
Obsess CEO Singh believes Meta's rebrand, which has made the metaverse a buzzy catchphrase, has confused customers about what the term actually means. But the concept, which has been around for years, is less esoteric than it appears to be. "The metaverse is not one place," Singh told me hours after she made her case to a room full of industry spectators. "It is a collection of different places." Those places could be the virtual stores her company powers for brands, or virtual galleries filled with NFTs that creators use in their social media posts, or a virtual stadium where we all buy virtual popcorn and watch virtual concerts. The options remain infinite.
Before she darted off to her next meeting, Singh made a moral case for commerce in the metaverse. With parts of the immersive internet ripe with racism and other abusive behavior and in need of supervision, Singh believed shopping in the metaverse could help make it a kinder, safer space to linger and, ultimately, to shop. "Brands make the metaverse a better place," Singh said. "It doesn't have to be Ready Player One."

​https://www.theinformation.com/articles/at-the-shoptalk-conference-in-las-vegas-e-retailers-have-a-lot-of-problems-and-the-metaverse-isnt-one-of-them