Verishop to Bring Incubated Digital Brands to Unibail-Rodamco-Westfield's Premier Shopping Destinations In the U.S.
December 11, 2019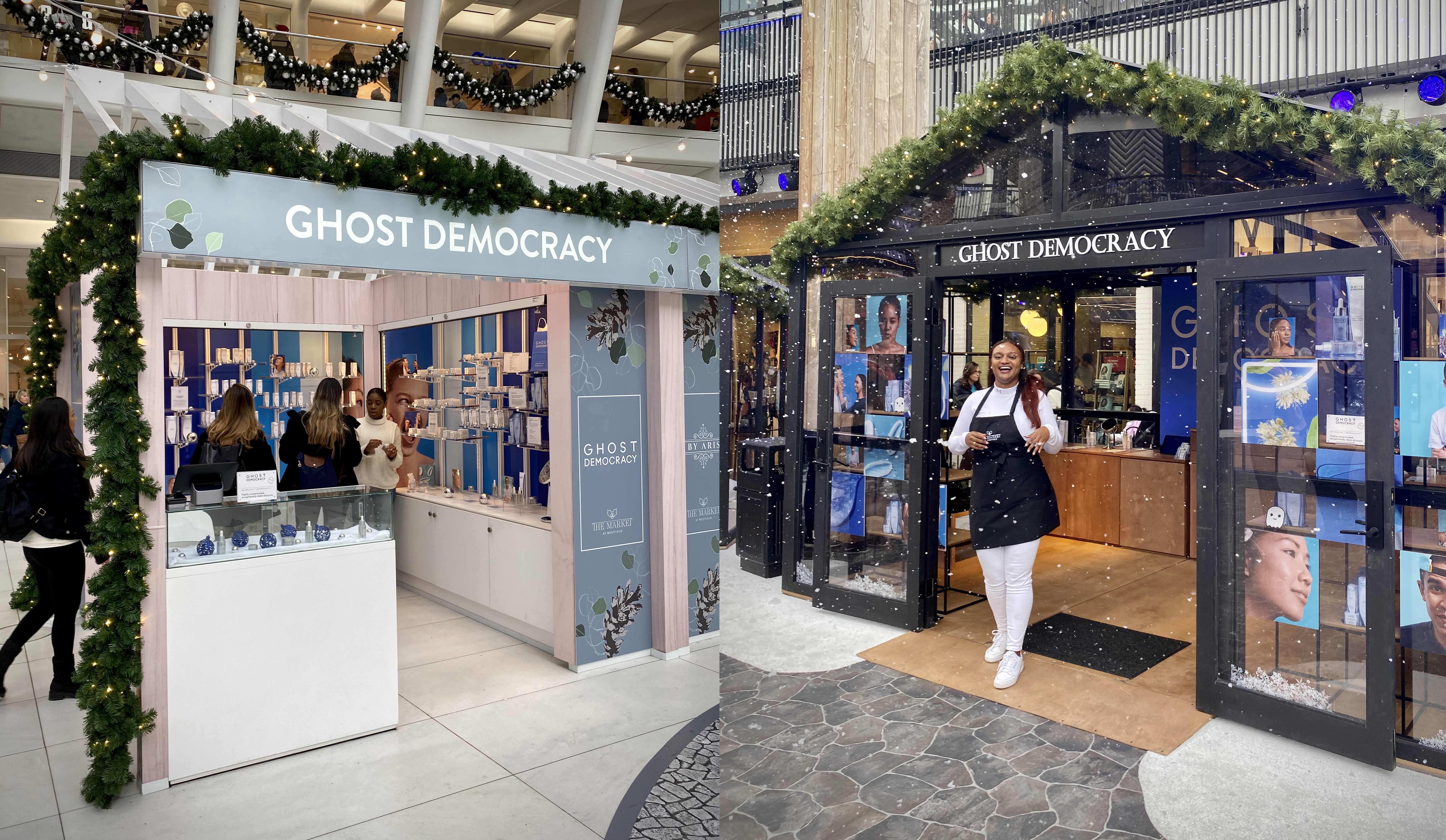 SANTA MONICA, Calif. – December 11, 2019 – Verishop's incubated digitally native vertical brands (DNVBs) are opening at flagship URW centers including Westfield Century City, Westfield World Trade Center, Westfield Garden State Plaza and Westfield San Francisco Centre.
The collaboration, started earlier this year, included Verishop's very first retail outpost – a pop up at Westfield Century City that opened in October.
As a reflection of the changing nature of the retail industry and the consumer shopping experience, Unibail-Rodamco-Westfield (URW), the premier global developer and operator of flagship destinations, and Verishop, the premium online lifestyle-shopping destination, have announced that they will open 14 pop-up or full-store concepts at leading Westfield shopping centers in the U.S. ​ The digitally native vertical brands incubated by Verishop will inhabit both temporary and inline spaces, with the flexibility to change if the company chooses to showcase new concepts or brands. 
"Unibail-Rodamco-Westfield is at the forefront of offering digitally native vertical brands the very best platform to scale their businesses in the U.S. and Europe," said Jean-Marie Tritant, President of URW in the U.S.  "With Verishop, we have the perfect operator; one that brings exciting, dynamic shopping experiences to our customers as well as one that demonstrates the opportunity that exists for DNVBs to grow their retail footprint in targeted, strategic ways."
Verishop is the multi-category e-commerce platform that curates the best global brands with the fastest free shipping online. The company also has a brand incubator program, which helps visionaries create digital brands around unique ideas that fulfill underserved demand from consumers. The first two from the incubator—Ghost Democracy, which was built in collaboration with L'Oreal veteran, Rex Chou; and LETT, a luxe leisurewear brand created by Reformation veteran Justine Liu—will be featured in the initial eight Westfield locations.
"Ghost Democracy and Lett were created with unique identities and customer experiences in mind, and we're excited to bring them to Westfield flagship centers' locations where each brand can shine," said Imran Khan, co-founder and CEO of Verishop. "Verishop aims to help customers find cool, new brands, and the customization and flexibility of Westfield physical spaces gives another way to provide that discovery experience. ​ The ability to create one-of-a-kind shops has enabled us to give shoppers an in-person experience to compliment what we've built online."
Westfield Century City launched Verishop's retail roll out with the company's very first pop-up shop, for Ghost Democracy, which opened in October 2019. ​ The test of the incubated brand at the center laid the groundwork for further strategic openings throughout Westfield's network of shopping destinations in the U.S.
As a leader in the omni-channel retail revolution, URW is working with the most innovative DNVBs to reimagine both physical and digital retail touchpoints and create a truly seamless shopping experience. The company's unique platform and service offering not only helps to support and grow a brand's business, but also provides a place where visitors can discover the most up to date and exciting new concepts.
The shops, which began opening in time for the 2019 holiday season, will continue their phased roll-out in 2020.
For more information, please contact:
For Verishop:
​Alex Barinka
​[email protected]
For Unibail-Rodamco-Westfield:
​Robyn Cottelli
​[email protected]
​
About Verishop
Verishop is a multi-category e-commerce platform that curates the best global brands for shoppers to discover with the fastest free shipping online. Launched in June 2019, Verishop aims to be the go-to shopping destination for all your everyday luxury needs and wants, from women's and men's fashion and accessories, to beauty and home decor.
Verishop's experienced retail team hand-selects products from more than 350 of the most-stylish global brands and offers customers a world-class experience with free one-day shipping, free returns, 24/7 customer care and the option to pay over time. Driven by tech and rooted in retail, Verishop is an ever-evolving platform that brings joy back to shopping. ​ 
Featured brands include:
Women's fashion: Agolde, ALC, ATM Anthony Thomas Melillo, Baum und Pferdgarden, Billie the Label, Free People, Girlfriend Collective, IRO, Levi's, Loveshackfancy, Misa, More than Yesterday, Re/Done, Vince
Men's fashion: AG, ATM Anthony Thomas Melillo, Barena, BLDWN, Chinatown Market, Deadwood, Honor The Gift, Mackage, Norse Projects, Richer Poorer, Theory, Woolrich, Vince
Home décor: Boll & Branch, Cinnamon Projects, Cire Trudon, Greenpan, Hawkins New York, Milo, Marshall, Norden, Primary Goods, Smeg, Staub, Zwilling
Beauty, skincare and wellness: Bioderma, By Terry, Grown Alchemist, GlamGlow, Kevyn Aucoin, Kora Organics, Kosas, Maude, Oribe, Pai, Perricone MD, Supergoop, Tata Harper
For more information, please visit https://verishop.com or https://newsroom.verishop.com. Follow Verishop on Instagram @verishop or on Twitter @verishop.
About Unibail-Rodamco-Westfield
Unibail-Rodamco-Westfield is the premier global developer and operator of Flagship destinations, with a portfolio valued at €65.0 Bn as at June 30, 2019, of which 86% in retail, 7% in offices, 5% in convention & exhibition venues and 2% in services. Currently, the Group owns and operates 92 shopping centres, including 55 Flagships in the most dynamic cities in Europe and the United States. Its centres welcome 1.2 billion visits per year. Present on 2 continents and in 12 countries, Unibail-Rodamco-Westfield provides a unique platform for retailers and brand events, and offers an exceptional and constantly renewed experience for customers.
With the support of its 3,700 professionals and an unparalleled track-record and know-how, Unibail-Rodamco-Westfield is ideally positioned to generate superior value and develop world-class projects. The Group has a development pipeline of €10.3 Bn.
Unibail-Rodamco-Westfield distinguishes itself by its Better Places 2030 agenda, that sets its ambition to create better places that respect the highest environmental standards and contribute to better cities.
Unibail-Rodamco-Westfield stapled shares are listed on Euronext Amsterdam and Euronext Paris (Euronext ticker: URW), with a secondary listing in Australia through Chess Depositary Interests. The Group benefits from an A rating from Standard & Poor's and from an A2 rating from Moody's.
For more information, please visit www.urw.com 
Visit our Media Library at https://mediacentre.urw.com 
Follow the Group updates on Twitter @urw_group, Linkedin @Unibail-Rodamco-Westfield and Instagram @urw_group
Access the URW 2018 report at https://report.urw.com/2018/