Verishop Wins Beauty Independent Beacon Award for Online Retailer of the Year
"The best e-commerce platforms in beauty know how to draw attention to innovation, and foster the spirit of exploration among even the most jaded, time-pressed customers." - Beauty Independent
October 14, 2020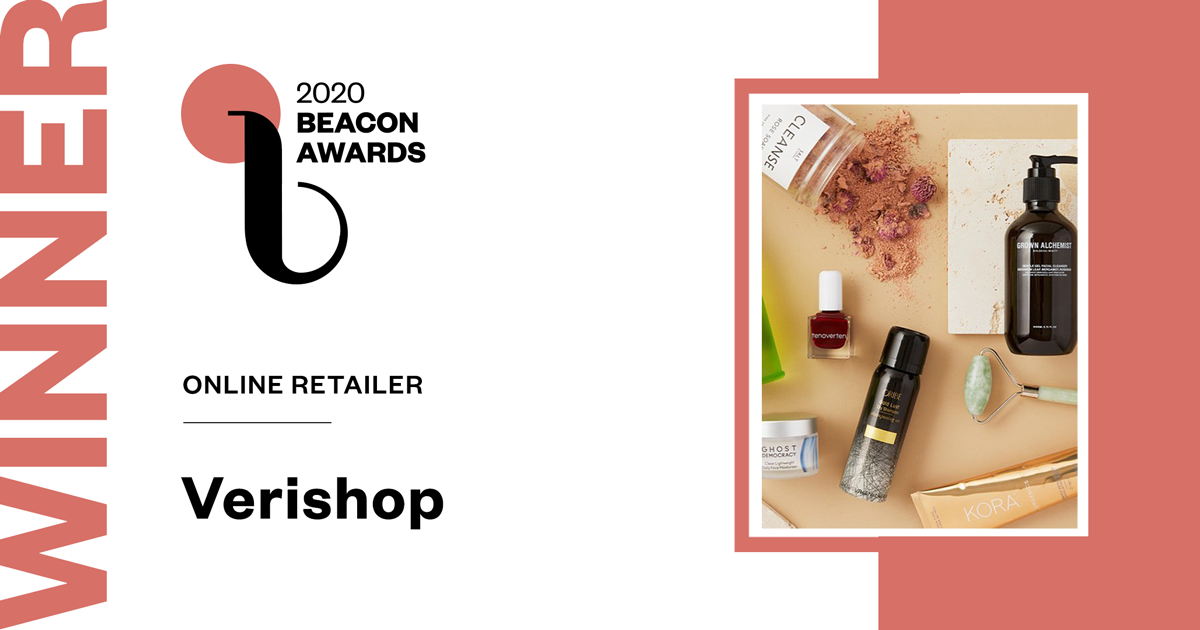 Verishop has been awarded the Beacon Award for Online Retailer of the Year from Beauty Independent, a digital publication focused on covering and helping entrepreneurs in the beauty and wellness industry. Verishop was nominated for the category alongside Amazon, ​ Bloomi, Dermstore and Grove Collective, and the top honor was chosen by a committee of industry experts.
From the Beauty Independent judging committee:
Why We Love Them
If you could shop the life of your most stylish friend who has the coolest everything, the selection would look a lot like Verishop's.
Who They Are
Verishop is a tech company bringing fun back to online shopping. We make inspiration shoppable with an e-commerce platform that combines social discovery with a seamless purchasing experience. The Verishop app gives users a feed of engaging and entertaining videos and photos which are all made shoppable with the help of artificial intelligence. For both the app and our website, shoppers get our promise of free 2-day shipping, free returns, 24/7 customer care and best price guarantee.
We sell products across all major lifestyle categories that appeal to our millennial audience -- including fashion, home decor, beauty, wellness and electronics -- and all our brands and products are vetted, so both customers and brands can feel confident in coming to Verishop. Our brand acquisition team has focused on bringing small or emerging brands, alongside the national names, to serve our customers the best products out there. Verishop has also focused on subcategories rarely seen on major retailers or e-commerce players like sexual wellness, clean beauty and sleep. We're just a year old and looking forward to continuing our push into social commerce and online retail.
Why They Won
Verishop received top honors for how easy it is to navigate its site and its dedication to supporting indie brands. Over 2/3 of their assortment are indie. The focus on customer service and education was also something for which all expert evaluators praised Verishop.